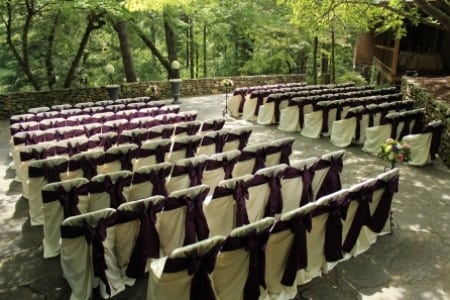 Our Chair Covers are offered in:
Lamour Satin Pillow Case Style
Spandex
White
Black
Silver
Turquoise
Aqua
Chair Cover Rental and Installation
Our chair covers are certainly one of our specialties in the Birmingham area! We feel we are able to reproduce a very consistent and elegant look across the entire seating arrangement at every event. Because we install everything, we are able to achieve this high quality standard.
Our bow is one of the proudest images of Decor to Adore and we pride ourselves in offering great consistency across a space of any size. We find that some of our clients like our pillow case chair cover with no sash, however an organza sash is included anyway if you choose! Some clients select a satin sash offers a striking match up of colors, with the neutral white, black or ivory pillow case chair cover.
The spandex chair cover is also a hit! We offer white or black and they both look great on their own or with a sash. Most clients go with a satin sash if they do choose to place a sash on the spandex chair cover.
Click on any image to enlarge gallery.
What Other People Are Saying